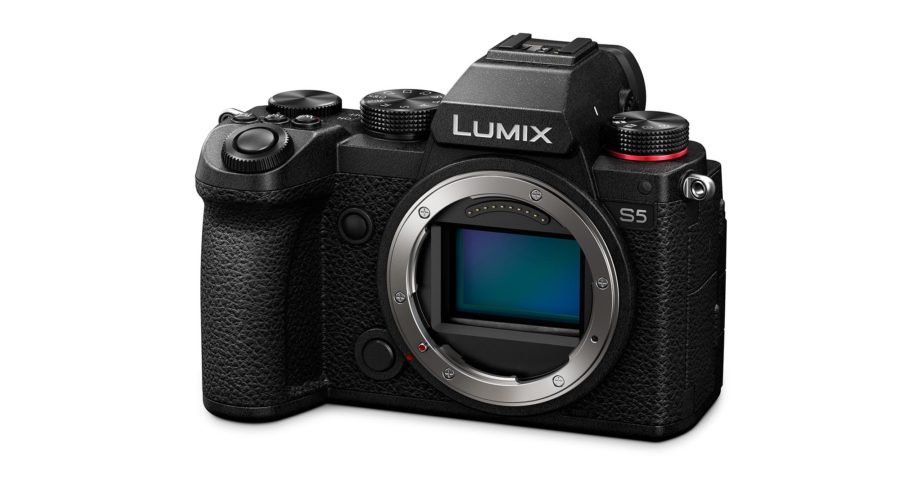 The new LUMIX DC-S5 joins Panasonic's growing line of Full Frame L-Mount hybrid mirrorless cameras that shoot stills and video.
A quick review. The LUMIX DC-S1H is still the flagship for hybrid video, with a crisp 5.76 million dot OLED EVF and numerous video choices that include C4K Full Frame 4096×2160 All-I 4:2:2 10-bit 400 Mbps MOV H.265 files internal recording up to 30 fps.
The LUMIX S1H has a 24.2 MP sensor. LUMIX DC-S1R has a high resolution 47.3 MP sensor. Both have 5.76 million dot finders.
Now, if you want a lighter, smaller, cheaper companion to the S1H, the new LUMIX S5 beckons. It uses the same 24.2 Megapixel Full Frame sensor as the S1H.
For internal video recording onto its SD card, the S5 tops out at Full Frame UHD 3840×2160 29.97p 4:2:2 10-bit LongGOP 150 Mbps with a 30-minute limit.
You can record 4:2:0 8-bit MOV or MP4 LongGOP 29.97p at 100 Mbps with no time limit. There are about 24 permutations of recording formats for Full Frame, APS-C / Super35, UHD and FHD. For anamorphic Super35, the S5 manages most of the popular desqueeze ratios and framelines.
The sensor has in-body stabilizing. Add that to Optically Image Stabilized L-mount lenses, and you gain 5 to 7 stops of steadiness. Boost I.S. in Video Mode lets you shoot handheld with the steadiness almost as if you were a human tripod. Autofocus speed has been improved from earlier S-series LUMIX cameras.
The S5's 20 mm flange focal depth L-Mount shares L-Mount lenses with SIGMA and Leica as part of the L-Mount alliance.
LUMIX S5 Specifications
24.2 Megapixel Full Frame sensor, like the S1H. But the S5 does not have an OLPF. (The S1H has a low pass filter.)
Sensor Size:   5.6 x 23.8 mm
Image Stabilization:   5-Axis In-Body
2,360,000 dot OLED viewfinder.
1,840,000 dot tilt and swiveling monitor.
ISO: 100-51,200 that extends to 50-204,800.
Dual native ISO familiar from other Panasonic cameras.
96 Megapixel High Resolution stitched JPEGs—good for background plate still photography.
Live View Composite (e.g. light painting, star trails, car tail light smeared timelapse.)
Time lapse, slow and fast motion (Slow & Quick).
Dual SD card slots.
Anamorphic desqueeze in Super35 format. 1.3x, 1.33x, 1.5x, 1.8x and 2x squeeze ratios are displayed.
Frame lines available: 2.39:1, 2.35:1, 2:1, 1.85:1, 16:9, 4:3, 5:4, 1:1, 4:5, 9:16.
14+ stops of dynamic range with V-Log / V-Gamut
Larger sensor (Full Frame) and yet the body is smaller than LUMIX GH series cameras.
Autofocus has been improved: more accurate and faster.
Audio mic input and headphone output jacks are on the camera left side.
Dimensions: 132.6 mm wide x 97.1 mm high x 81.9 mm deep.
Weight: 714 grams
10-bit HDMI external 4K recording in 4:2:2 10-bit will be supported. The S5 is available body only, or with a compact 20-60 mm F3.5-5.6 zoom lens.
Panasonic LUMIX S1H and S5 Compared
LUMIX S5 Firmware v1.2 Update
V1.2 Firmware coming later this year is expected to provide:
Support for RAW Video Output via HDMI to Atomos Ninja V
5.9K 5888 x 3312 at 29.97 /25 / maybe 23.98 fps
4K 4128 x 2176 up to 59.94 / 50 fps
Anamorphic 3.5K 3536 x 2656 up to 50 fps
C4K video recording
Video Tools: Vector Scope, Master Pedestal Adjustment, SS/Gain  Operation (Sec/ISO, Angle/ISO, Sec/dB)
New Photo styles: L. MonochromeS, L. ClassicNeo
LUMIX S1H Firmware Update
The S1H will get improved autofocus performance, similar to S5.
LUMIX S1R Firmware Update
The S1R will get 5K video recording capability and improved autofocus performance, similar to the S5.
Panasonic  LUMIX S5
Video Recording Modes
H.264 / MOV 4:2:2 10-Bit
UHD 4K (3840 x 2160) at 23.976p / 25p / 29.97p
[150 Mb/s]
Full HD (1920 x 1080) at 23.976p / 25p / 29.97p / 50p / 59.94p
[100 Mb/s]
4K Anamorphic (3328 x 2496) at 23.976p / 25p / 29.97p
[150 Mb/s]
H.264 / MOV 4:2:0 8-Bit
UHD 4K (3840 x 2160) at 23.976p / 25p / 29.97p / 50p / 59.94p [100 to 150 Mb/s]
Full HD (1920 x 1080) at 23.976p / 25p / 29.97p / 50p / 59.94p
[100 Mb/s]
4K Anamorphic (3328 x 2496) at 23.976p / 25p / 29.97p / 50p
[100 to 150 Mb/s]
H.265 / MOV 4:2:0 10-Bit
UHD 4K (3840 x 2160) at 50p / 59.94p
[200 Mb/s]
4K Anamorphic (3328 x 2496) at 50p
[200 Mb/s]
H.265 / MP4 4:2:0 10-Bit
UHD 4K (3840 x 2160) at 23.976p / 25p / 29.97p / 50p / 59.94p [72 to 100 Mb/s]
H.264 / MP4 4:2:0 8-Bit
UHD 4K (3840 x 2160) at 23.976p / 25p / 29.97p
[100 Mb/s]
Full HD (1920 x 1080) at 23.976p / 25p / 29.97p / 50p / 59.94p / 100p / 119.88p / 180p
[20 to 28 Mb/s]
Recording Limits
Up to 30 Minutes for UHD 4K (3840 x 2160) at 23.976p / 25p / 29.97p (4:2:2 10-Bit)
Up to 30 Minutes for UHD 4K (3840 x 2160) at 50p / 59.94p(4:2:0 10-Bit)
Unlimited for UHD 4K (3840 x 2160) at 23.976p / 25p / 29.97p(4:2:0 8-Bit)
External Video Recording Modes
4:2:2 10-Bit
UHD 4K (3840 x 2160) up to 50p / 59.94p
Panasonic LUMIX S5 with L-Mount LUMIX S 20-60 mm F3.5-5.6 lens
DISP Button Data on Rear Monitor
The DISP Button cycles the rear touch-screen monitor display between live image with data, live image without data, blank, main parameters (that can be changed by selecting them by touch, and blank screen. Note: HDMI output shows live view and a window with camera settings (the S1H showed a full screen of camera settings against a black background.)
Q Button Rear Touchscreen Monitor
Your viewfinder might look like this when shooting video:
2:1 Aspect Ratio
UHD 4K MO4 10-bit 30p
Manual Focus
Image Stabilization On
Creative Video Mode
Shutter 1/100 sec
F5.6
ISO 1600
SD card in slot 1
30m 00s remaining
Battery Full